I would post of interview of Mr. Sigg this year during Basel.
----------------------------
The Collector of Chinese Contemporary Art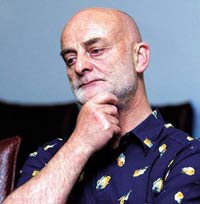 Uli Sigg is perhaps the most influential collector of Chinese contemporary art in the world, but he's a lonely man.
With a contemporary art collection that numbers 1,200 -- ranging from canvases to videos, photos and installations -- Uli Sigg is a big name in the world of Chinese contemporary art.
The Swiss native, who has been collecting since 1985, is said to be the only collector to have witnessed the development of Chinese contemporary art history since its infancy.
His influence in the contemporary art community is illustrated by an apocryphal tale that artists like to tell about him: it is said that once, when visiting an artist's home, Sigg was bitten by his dog -- and thanks to that "unpleasant" experience, the painter remained an obscure artist. For the record, Sigg denies that this ever happened, but the point has been made.

Last week, Sigg flew to Shanghai to announce the winners of the 2004 Chinese Contemporary Art Awards (CCAA), honoring talented contemporary Chinese artists. The top prize went to avant-garde artist Xu Zhen, with young visual artist Song Tao taking away the Young Artist Award and Gu Dexin for the Contribution Award.
He has a personal stake in the awards: It was Sigg himself who established the CCAA in 1998, and he is chairman of the jury, which is made up of several other world-famous curators, including Ai Weiwei, Alanna Heiss, Gu Zhenqing, Harald Szeemann and Hou Hanru.
Approachable and easy to talk to, Sigg does not come across like the standard snooty collector. His purpose, he says, is simple: "I want to document history through the works I have collected."
It is, at once, both overwhelmingly simple -- and frighteningly ambitious.
His words recall those of Italy's Medici family, who lavished their wealth on the support of artists and sculptors in Florence, turning the city into the cultural center of Europe.
For Sigg, however, China was totally different from his homeland, a strange with a very different type of art.
"Before I visited Beijing in 1979, as a representative for the Schindler company, I didn't think that this country, a thousand kilometers away from me, had any link with my life," he says.
But that fateful trip was to prove him wrong -- and to change his life.
Sigg negotiated on behalf of Schindler with the Beijing government, creating what would become the first joint venture in China. His first-hand knowledge of China led to his appointment as Swiss ambassador in the mid-1980s, and today he is the deputy chairman of Ringier Holding AG, Switzerland's largest media company.
Sometimes, a mere glance at a resume speaks volumes about a person's character. "Sigg always wants to be No. 1 in whatever area he is involved in," says internationally renowned artist Zhou Tiehai, winner of the 1998 CCAA. "Chinese contemporary art would look very different if not for him, and so would my life. I wouldn't have been able to afford to buy a house without him collecting my works."
Chinese curator Gu Zhenqing, who is also a jury member of this year's CCAA, echoes Zhou.
"He has contributed so much in promoting Chinese contemporary artists to the world stage," Gu says. "Even in China, there is not a single award, aside from the CCAA, to encourage contemporary art."
Yet doesn't the fact that one person -- and a foreigner -- has such a great influence on Chinese art make people uncomfortable? How is it possible that one man's personal preference has led Chinese contemporary art?
"That is overestimating my power," retorts Sigg gently. "I am not the sole influence -- fully half the CCAA jury members are Chinese curators."
Sigg's collection includes milestone works created by 160 top artists which are rare in domestic museums or galleries.
"At the beginning, Chinese contemporary art was strongly influenced by the West," he says. "But gradually, it has grown into something much more vernacular."
A law major, Sigg's interest in art developed at an early age. "When I was younger, I preferred European classic works," he notes. "But as I matured, I became more fascinated with the energy and power of contemporary artworks."
His criteria for collecting, he says, is based on collectors' books and magazines. "I know what is worthwhile collecting and what is not," he says.
It is a great pity that his comprehensive collection cannot be shown in China, due to some reasons. Contemporary art aficionados might want to book tickets for Switzerland next year, however, where Sigg is considering an exhibition showcasing his entire collection.
"We hope that more collectors like Sigg will emerge in the future," laments Gu, "perhaps Chinese entrepreneurs or big companies."
Sigg, too, is lonely for company, and says that it is his hope that with the support of Chinese companies, which would serve the dual purpose of "making it more like a Chinese award to Chinese artists" and increasing the purse from its current US$3,000.
(eastday.com June 15, 2004)

Source China.org.cn