"I don't have a single share in the stock market," Jessica Zhang announced as she pointed to her latest investment, an oil painting portraying a love affair between a man and a woman perched on a catfish, with expressions of melancholy on their faces.
For the owner of Amelie Art Gallery in Beijing's 798 Art District, Zhang's prized possessions are works from Chinese and Western artists. "I don't believe in investing in the stock market. Art is the real deal for me."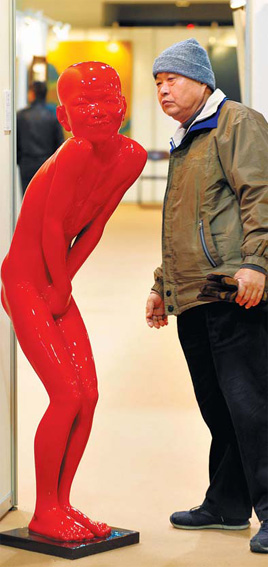 A visitor looks at a modern Chinese sculpture at a pre-auction exhibition in Hangzhou, Zhejiang province. [China Daily]
She considers jewelry, watches, wine and cigars as sound investments too.
If it's any indication of the blossoming tastes of Chinese art collectors, Zhang's investments mirror a growing and significant trend in the art auction scene. Over the last two to three years - instead of following past trends of buying Chinese brush and oil paintings and objects from imperial periods - Chinese collectors have migrated into new categories such as Western masterpieces, modern art, wine, cigars, watches and jewelry.
Although such acquisitions are still small in number, many see this as an early window of opportunity to tap into burgeoning Chinese purchasing power.
Coupled with better education and exposure to Western lifestyles, what was traditionally considered Western luxury is now - slowly but surely - being snapped up by more affluent individuals in China.
"We saw a big surge in Chinese buying in categories that they were not familiar with. We have now seen mainland buying - not in huge quantities - of Western, Impressionist and contemporary art," Kevin Ching, CEO of Sotheby's in Hong Kong, told China Daily.
International auction house Sotheby's Asia reported 57 percent of wine sales by volume went to Asian collectors this year alone, with most being mainland buyers.
"As long as the economy remains strong, mainland buying power will continue to be a force to be reckoned with," Ching added.
For the first time in Sotheby's 10-year history in Hong Kong, mainland buyers accounted for nearly 40 percent of Sotheby's Asian auction sales during last year's autumn auction.
That figure was more than a two-fold jump from a meager 18 percent in the fall of 2008.
One unidentified Chinese buyer bought an 1815 Piguet & Meylan hourly-chiming watch set in gold, enamel and pearls for $279,490.
In another auction, one Chinese buyer successfully bid $93,077 for a 6-liter bottle of 1982 Chateau Petrus wine, setting a world auction record for Chateau Petrus imperial wine.
In some sense, Chinese art collectors are coming-of-age, but purchasing power is not restricted to young, wealthy and Western-educated buyers, said Jonathan Stone, Managing Director, Asia and International Business Director of Asian Art at Christie's in Hong Kong. "Older Chinese buyers who have lived through the 'cultural revolution' (1966-76) are also starting to acquire works," he added.
During the 'cultural revolution', many Western paintings were destroyed. Although government discouragement of Western art forms ended in the late 1970s, interest in Western art was believed to be confined to Chinese in their 50s and under, who obtained a Western education.
Although it will take time for Chinese art collectors to be on par with their Japanese counterparts. During the 80s, wealthy Japanese, fuelled by an economic boom, shook the art world by purchasing Picassos, Monets and Renoirs.
With that knowledge in hand, those in the business of trading and collecting art are certainly keeping a close eye on the Chinese art-collecting community.
China's spectacular economic growth over the past three decades has created enormous wealth, and Chinese art collectors are now more willing and able to pay huge sums for works of art.
This also means that Chinese are now more actively reacquainting themselves with their historical and cultural identity. Prices for Chinese works have risen steeply as well, partly sparked by the belief that the value of Chinese work is currently underestimated.
A rare, early Ming Dynasty (1368-1683) under-glazed, blue, pear-shaped vase, fetched $1.529 million during a Christie's auction held in Hong Kong last December.
A painting entitled Eighteen Arhats, by 16th Century Ming Dynasty painter Wu Bin, came under the hammer recently for 169.12 million yuan ($24.76 million yuan) - reportedly the highest amount ever paid for a Chinese painting at auction, in the world. Sold by Poly International Auction in Beijing, the painting, which brought in $620,000 when sold at auction in New York in 1992, saw its value skyrocket 40 fold after only 17 years.
"We are pleased to see the potential strength of domestic buyers. They are acquiring top price pieces and it's great to note that they are making the effort to bring back some of the country's prized possessions," said Liu Jing, Poly Auction's marketing manager.
Another work, Flowers and Insects Album Leaf by Chinese contemporary painter Qi Baishi, posted a new record in the Chinese modern painting category when it sold this year for 95.2 million yuan ($13.94 million).
A rare altar vase called the Famille-Rose, created in the Qing Dynasty (1644-1911) during the Yongzheng period (1678-1753), sold for a record price in the fine Chinese ceramics category when a bidder bought it for 67.76 million yuan ($9.92 million).
Traditional Chinese painting sales grew 200 percent through 2009, and 20th-century Chinese contemporary art sales rose 50 percent in the same period, said Stone. "Overall, sales of Asian art at Christie's in Hong Kong grew 56 percent."
To keep the momentum going, international auction houses and galleries in China hope to collaborate with educational institutions to further educate Chinese on Western contemporary art and hopefully, generate new interest in the investment value of art.