Exhibition : On the Edge
by Jonathan Gent, Chat Jenchitr, Ralph Kiggell, Thavorn Ko-Udomvit, Yeni Mao, Justin Mills, Be Takerng Pattanopas, Audrey Tulimiero Welch
on June 8 - July 8, 2010
at DOB Hualamphong Gallery, Bangkok
DOB Hualamphong Gallery will hold the art exhibition:
"On the Edge"
8 Artists (Jonathan Gent, Chat Jenchitr, Ralph Kiggell, Thavorn Ko-Udomvit, Yeni Mao, Justin Mills, Be Takerng Pattanopas, Audrey Tulimiero Welch)
Curated by Brian Curtin
From June 8 to July 8 2010 (Opening reception on June 8 : 06.30 PM)
At DOB Hualamphong Gallery
ARDEL Gallery's DOB space is delighted to announce an international exhibition of visual art. Including artists from Britain, New York and Thailand, On the Edge explores a fundamental aspect of picture-making: line. This exploration is intended to emphasize art-making in terms of method, rather than insisting on strictly contextual considerations.
The use of line is definitively linked to drawing in terms of spontaneity and a sense of the primary. On the Edge understands this definition but also explodes it. All the artists employ line as an end as well as a means. Line is a distinct pictorial device, and holds metaphoric implications in terms of limits, movement and the relationship between observation and representation.
On the Edge offers a provocatively idiosyncratic view of the use of line in a variety of international contemporary art practices. The artists here variously explore line in terms of graffito, the symbolic, the decorative and the descriptive, and the expressive. At issue is an engagement with contemporary art that insists on an acknowledgment of the structure of the image, and how traditional formal decisions are being played out across the plane of aspects of current art.
DOB Hualamphong Gallery requests for your support to kindly promote the upcoming exhibition.
For further information, kindly contact ARDEL Gallery: 02-422-2092, 084-772-2887 Fax: 02-422-2091
Tuesday-Saturday: 10:30~19:00 hrs., Sunday: 10:30~17:30 hrs. (Except on Monday)
DOB Hualamphong Map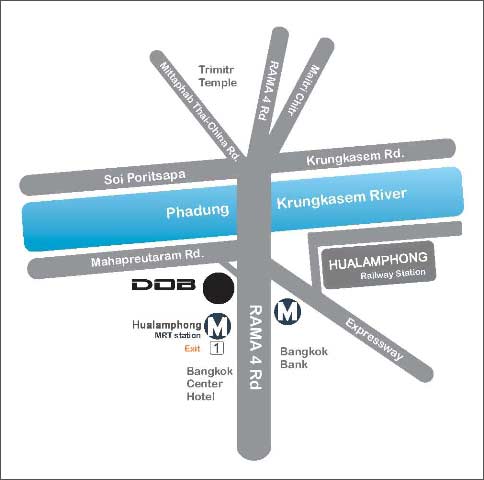 DOB Hualamphong Gallery
Resident One Property Co., Ltd.
DOB Building 4F, 318 Rama 4 Rd.,
Mahapreutharam, Bangrak, Bangkok 10500
Tel: 0-2237-5592-4, 08-5482-3566